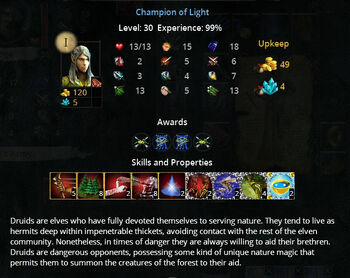 When a unit excels in combat, it can be awarded with a medal at the end of battle. Medals can enhance unit attributes or grant new skills, but may also increases their upkeep costs considerably.
A unit can get the same medal more than once but maximum amount of medals is three. Undead can't get medals at all.
The minimum condition required to have a chance of receiving each medal is listed in the table below but often these numbers need to be further boosted to have a real chance to actually gain the medal. Listed will be requirements for 20% and 50% chance although these are only arbitrary points on the scale. Boosting those numbers have diminishing returns and no medal is ever guaranteed.
In World of Knowledge, half of the time meeting the minimum requirement is enough and further numbers increase chances doubly more than in other world types.
Abbreviations: g = gold, c = crystals/gems
Medal
Name
Bonus
Upkeep increase

Battlemage's Badge
+2 ammo
+2 stamina
4g
1c

Minimum requirements:

Use at least 3 stamina on spells and score at least 1 ranged kill.

20% chance to get when:

Stamina used on spells + ranged kills = 3 (fulfilled at minimum requirement)

50% chance to get when:

Stamina used on spells + ranged kills = 10

Additional
notes:

Chance to get this medal is halved if the unit has it already.

Fire Pennant

+1 ammo
+1 resistance
+3 Fire Arrows

7g
1c

Minimum requirements:

Unit must not have Magic Shot, have a max ammo of at least 3, take 2/3 max HP of damage, deal ranged damage 3 x its ranged attack, and score at least 2 ranged kills.

20% chance to get when:

Ranged damage done + 5 x ranged kills - 3 x ranged attack x max ammo = 17

50% chance to get when:

Ranged damage done + 5 x ranged kills - 3 x ranged attack x max ammo = 39

Additional
notes:

Chance to get this medal is halved if the unit has it already.

Healer's Medal
+2 healing
+1 to ammo
3g
1c

Minimum requirements:

Unit must have Healing skill and heal 3 x its value.

20% chance to get when:

Heal 4 more damage than minimum requirement.

50% chance to get when:

Heal 19 more damage than minimum requirement.

Additional
notes:

Chance to get this medal is halved if the unit has it already.

Hero's Cross
+2 melee and counter attack
+1 armor and resistance
10g

Minimum requirements:

Take damage at least 2/3 of max HP and score at least 5 kills.

20% chance to get when:

Unit scored 6 kills

50% chance to get when:

Unit scored 15 kills

Medal for Agility
+2 ranged defense
+2 stamina
3g

Minimum requirements:

Ranged damage received > 50% remaining HP and score at least 1 kill.

20% chance to get when:

Received 7 more ranged damage than minimum requirement.

50% chance to get when:

Received 21 more ranged damage than minimum requirement.

Medal for Courage

+4 morale +1 attack

3g

Minimum requirements:

Unit must have 5 more morale than at the beginning of the battle and score at least 1 melee kill.

20% chance to get when:

The unit has 8 more morale than at the beginning of the battle.

50% chance to get when:

The unit has 41 more morale than at the beginning of the battle.

Medal for Zeal
+3 stamina
+1 counter attack
3g

Minimum requirements:

Use more stamina than max stamina.

20% chance to get when:

Unit used 4 more stamina than its maximum.

50% chance to get when:

Unit used 19 more stamina than its maximum.

Medal for Resolution
+2 resistance
+2 morale
3g

Minimum requirements:

Spell damage received > 50% remaining HP and score at least 1 kill.

20% chance to get when:

Received 7 more spell damage than minimum requirement.

50% chance to get when:

Received 21 more spell damage than minimum requirement.

Medal for Resilience
+4 hit points
+1 counter attack
+1 melee defense (not listed in description)
4g

Minimum requirements:

Take more damage than max HP and and score at least 1 kill.

20% chance to get when:

Take 4 more damage than unit's max HP.

50% chance to get when:

Take 19 more damage than unit's max HP.

Order of the Defender
+2 melee defense
+1 counter attack
4g

Minimum requirements:

Melee damage received > 50% remaining HP and score at least 1 melee kill.

20% chance to get when:

Received 7 more melee damage than minimum requirement.

50% chance to get when:

Received 21 more melee damage than minimum requirement.

Order of the Marksman
+1 ranged attack
+1 precise shot
8g

Minimum requirements:

Unit must not have Magic Shot, Petrification or Web skill, have at least 3 max ammo, deal ranged damage worth 3 x ranged attack, and score at least 2 ranged kills.

20% chance to get when:

Ranged damage done + 5 x ranged kills - 3 x ranged attack = 7 (fulfilled at minimum)

50% chance to get when:

Ranged damage done + 5 x ranged kills - 3 x ranged attack = 39

Additional
notes:

Chance to get this medal is halved if the unit has it already.

Mercenary Badge
doubles upkeep
Automatically granted to all mercenaries

Star of the Mage
+1 ranged attack
+1 energy control
5g
1c

Minimum requirements:

Unit must have Magic Shot, deal ranged damage worth 3 x ranged attack and score at least 2 ranged kills.

20% chance to get when:

Ranged damage done + 5 x ranged kills - 3 x ranged attack = 7 (fulfilled at minimum)

50% chance to get when:

Ranged damage done + 5 x ranged kills - 3 x ranged attack = 39

Additional
notes:

Chance to get this medal is halved if the unit has it already.

Will for Victory Order

+2 melee attack
+2 counter attack

5g

Minimum requirements:

Deal melee damage worth of 3 x (attack + counter-attack)

20% chance to get when:

Deal 6 more melee damage than minimum requirement.

50% chance to get when:

Deal 21 more melee damage than minimum requirement.

Order of the Victor

+5 HP
+3 morale
+2 melee attack
+1 counter attack

10g

Minimum requirements:

Unit must score a kill in a battle where more than 80% of army is lost.

20% chance to get when:

Army size at start of battle + kills scored = 6

50% chance to get when:

Army size at start of battle + kills scored = 21