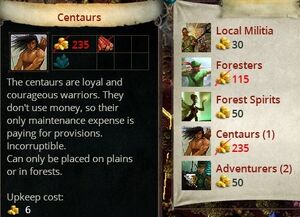 To protect provinces the player may hire (provincial) Guards (as opposed to Garrisons, which are units stationed inside strongholds or provincial outposts). A Guard is a special immobile army that isn't under the direct control of the player. The Guards' purpose is protecting the province in which it is stationed. In order to hire guards the player must aquire contracts; either unlimited amount through specific 
buildings
or one-time contracts obtained as loot and through some buildings. Some
random events
may result in guards appearing in a province; for example: a Mob decides to "protect" a province.
Neutral provinces have guards as well but they differ from the hireable Guards specified here, see Neutral Provinces for details.
If you are looking for the guards which have to be defeated to clear dungeons and other locations, see Location Guards.

Notes:
Guards usually require resources to hire and maintain, but there are some for "free" (Gang of Thieves for example) but with the side effects (reducing province income and mood for example).
There can be only one guard active in a given province. Hiring a new guard replaces the old one.
Some guards may not be disbanded (like the Mob). To get rid of these guards the player may attack them with a Hero.
There are several side-effects guards can impart on a province. For example, Foresters increase tax income from a province by 10%, Patrolmen reduce the province unrest growth rate, and Watchmen increase the spotting range (reduce fog of war).
If province guards are attacked and lose they vanish from the map. If they win and lose some units, the HP will be replenished in time but dead units will not resurrect due to a bug (This mod fixes it). Victorious guards gain XP like other units.
Since some buildings restrict the availability of other buildings, it is not possible to hire all types of guards on a given shard, this might help you consider which building tree seems more attractive (thus making your decisions more complex).
Guard types
Edit
Abbreviations: g = gold, c = crystal (gems), A = alliance, C = one-time contract, E = event
Name
Cost
Upkeep
Availability
Consist of (level)
Effect on province/notes
Adventurers
50g
4g
Inn (1) and Merchant Court (2), C, E
1 Healer (10)
1 Thief (10)
1 Shaman (10)
1 Goblin (10)
1 Orc (10)
1 Elf (10)
1 Dwarf (10)
1 Fairy (10)
1 Halfling (10)
1 Monk (10)
1 Guardsman (10)
limited contracts
Archer Militia
40g
4g
C(?)
2 Slinger (4)
2 Bowman (3)
1 Crossbowman (2)
Army of Chaos
150g +
10g
4c
C
3 Imp (19)
3 Fiend (18)
3 Hellhound (17)
3 Demon (12)
2 Devil (10)

-2 mood
-1 growth
cannot be disbanded
Battlemages
500g + 60c +

20g
Tower of Night, C
6 Shaman (12)
4 Sorcerer (15)
3 Magician (8)
+30% crystal income
-1 mood
-1 population growth
Brethren of Light
60g +

5g
Abbey, C
6 Militiaman (5)
3 Healer (5)
2 Monk (8)
+10% unit recovery
+1 mood
Brotherhood of the Eagle
200g + 20c +

12g
Secret Monastery, C
8 Monk (9)
+10% unit recovery
+1 mood
Cavalry
300g +

15g
Cavalry Barracks, C
6 Horseman (15)
Centaurs
200g +

6g
A, C
8 Centaur (9)
incorruptible
only in plains and forest
Clan of Giants
300g +

30g
C
5 Giant (12) 1 Fire Giant (12)?
cannot be dismissed
-1 mood
-1 population growth
only in hills
Creature Masters
200g +

20g
5c
C

2 Basilisk (18)          2 Giant Spider(18)    2 Giant Slug (18)    3 Magician (12)       2 Manticore (12) 1 Hydra (10)

Cutthroats
20g
-
Bandit Lair, C
8 Brigand (5)
3 Bowman (4)
-20% income
-2 mood
Cyclops

250g +


25g
C
6 Cyclops (12)
cannot be dismissed
-1 mood
-1 population growth only in hills
Dark Brotherhood
130g + 25c +

7g
Black Tower, C
4 Sorcerer (9)
6 Shaman (12)
-1 mood
Dragon
500g +
50g 10c
C
1 Dragon (?)
-50% income
-50% gem income
cannot be disbanded
Dwarf Clan
300g + 6c +

15g
A,C, E
8 Dwarf (12)
2 Ballista (9)
1 Catapult (5)
Only in Hills (?)

Improves hill resource yield +15 (mithril)

+12 (?(Marble))

+9 (?(Iron))

Dwaven Warband [Imperium]
400g +

25g
Great Forge, A
2 Dwarf ()
2 Dwarf Guardsman()
2 Dwarf Engineer ()
2 Dwarf Miner()
2 Dwarf Pyromaster ()
2 Dwarf Grenadier()
2 Dwarven Battlewagon ()
Only in Hills

Improves hill resource yield

+10 (mithril)
+6 (marble)
+3 (Iron)


+1 mood

Elven Guards
-
Depends on composition of guards
A
Varies
Converted from Elven Forest guards
Foresters
80g +

2g
Foresters Guild, C
5 Bowman (13)
+10% income
only on forests
Forest Keepers
140g + 60c +

5c
Stonehenge, C
6 Fairy (15)
4 Dryad (12)
1 Unicorn (9)
incorruptible
+3 mood
only in forests
Forest Spirits
50g
1c
Enchanted Grove, C
4 Fairy (12)
3 Dryad (8)
incorruptible
+2 mood
only in forests
Gang of Thieves
10g
-
Den of Thieves, C
9 Thieves (7)
-10% income
-1 mood
Gargoyle Masters
250g + 50c +

20g, 6c
Artifact Master, C
6 Gargoyle (10)
3 Sorcerer (10)
2 Magician (8)
1 Stone Golem (8) 1 Clay Golem (8)
Guardians of the Ancients
300g + 100c +

10c
C
7 Stone Golem (15)
incorruptible
+30% income
Guardsmen
350g +

10g
Officer Academy

5 Pikeman (12)
4 Crossbowman (12)
4 Guardsman (9)

Halflings
-
1g
A
? Halfling (?)
+1 karma, converted from neutral Halflings
Heavenly Guardians
5c
Ritual, C
8 Pegasus (15)
increased spotting range
+2 mood
Horde
50g +


-
Banner of the Horde, C
8 Goblin (12)
6 Orc (14)
-30% income
-1 mood
Host of the Dead
?
5c
C
2 Vampire (10)
3 Ghost (12)
3 Ghoul (12)
3 Zombie (12)
3 Skeleton (12)
-2 mood
-1 growth
Hunters
60g +

-
Hunters Camp, C
5 Bowman (5)
reduce cost of garrison units by -50%
Imperial Guard
300g + ?
30g
C
2 War Elephant (9)
3 Knight (10)
3 Horseman (15)
3 Guardsman (15)
4 Crossbowman (15)
-5 unrest growth rate
Inquisition
-
-
Peaceful annexation of Holy Lands
Varies
Converted from neutral Holy Lands

Province Income -100%

Population mood -2

-1 karma

Cannot be dismissed

Labyrinth Guards
250g +

25g
C
6 Minotaur (14)
Light Infantry
70g
5g
Barracks, C
6 Militiaman (10)
3 Bowman (9)
5 Spearman (8)
Lizard Guards
170g +
8g
Pool, C
6 Lizardman (10)
2 Giant Slug (5)
2 Basilisk (5)
1 Medusa (3)
swamps only
Local Militia
30g
3g
Recruting Station, C, E
6 Militiaman (5)
2 Slinger (3)
2 Spearman (3)
Men of War
250g +

15g
Military School, C
3 Swordman (12)
3 Pikeman (12)
5 Crossbowman (12)
3 Horseman (9)
Mercenaries
200g +

12g
Mercenaries Guild, C
3 Spearman (11)
3 Bowman (9)
2 Barbarian (19)
2 Horseman (7)
1 Horse Archer (7)
Mob
180g +

-
Bandit Clan, E
6 Brigand (12)

4 Bowman (12)

3 Thug (7)

province income -30%

mood -2

karma -1

Monsters
450g +

45g
2c
Monstrologists Guild, C
3 Basilisk (10)
3 Giant Spider (10)
3 Giant Slug (10)
3 Manticore (8)
Nomads
250g +

10g
Nomad Camp, C
6 Horse Archer (9)
3 Horseman (9)
+12 income with
only in plains
Orcish Patrol
Form Alliance
1g
A
Varies
Orc Province after forming Alliance
Ogres
180g
20g
C
6 Ogre (12)
cannot be dismissed
-1 mood
-1 population growth
Order of Great Darkness
150g +
10g + 6c
C, E
3 Gargoyle (20)       5 Sorcerer (15)        4 Magician (13)       3 Warlock (10)
-1 mood
-1 pop growth
Order of the White Shield
550g +

20g
Castle of the White Shield, C
4 Pikeman (15)
3 Crossbowman (15)
3 Swordman (15)
3 Knight (9)
Overseers
400g +

15g
Scaffold, C
6 Thug (12)
3 Executioner (9)
-4 unrest growth rate
Patrolmen
110g +

7g
Warriors Guild, C
6 Pikeman (5)
3 Bowman (5)
2 Swordman (8)
unrest growth rate -2
Phoenix
200g +

5c
C
1 Phoenix (15)
incorruptible, intrepid
Recruits
40g +


4g
Practice Halls, C
2 Militiaman (0)
1 Slinger (0)
1 Spearman (0)
1 Pikeman (0)
1 Crossbowman (0)
1 Thief (0)
1 Brigand (0)
Siege Engineers
400g +

14g
Mechanics Guild, C
5 Militiaman (18)
3 Slinger (15)
3 Ballista (12)
2 Catapult (9)
+5% restoration of fortifications
Tribe
100g
5g
Chieftain Tent, E
6 Barbarian (9)
3 Shaman (5)
only in plains
Trolls

170g + 5c +


15g
1c
C, E
6 Troll (12)
cannot be dismissed
-1 mood
-1 population growth
only in swamps
Vassal
-
-
Peaceful annexation of Prince's Lands
Varies
Converted from neutral Prince's Lands

province income -90%

cannot be dismissed

Walking Dead
40g + 20c +

1c
Cemetery, C
5 Skeleton (9)
4 Zombie (7)
2 Ghoul (6)
incorruptible
-1 mood
Wardens
120g +

8g
Lookout Tower, C
6 Swordman (6)
4 Crossbowman (6)
unrest growth rate -3
Warriors of Light
400g +

40g
3c
C

3 Monk (19)    3 Guardsman (18)   3 Knight (12)           3 Cleric (2)            3 Paladin (10)

+1 mood
incorruptible
Winged Guardians
500g +

15g
2c
Celestial Temple, C
4 Gryphon (9)
6 Pegasus (12)
increased spotting range
Watchmen
70g
5g
Watchtower, C
6 Slinger (6)
3 Spearman (4)
increased spotting range